Faster and Easier Quality Content for your Social Media Posts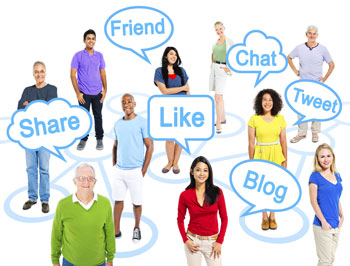 A frequent question we get asked is, "Where can I find material to post on our Facebook Page or Twitter account to get more interaction?"
There is usually a lot happening in a given industry and in your community, and your followers will find these things helpful. They also want to know about your organization, but just don't want every post to be about a sale or promotion (self-focused).
When building a community of followers, you need to provide them with useful content, not just talk about your business, products or sales. A good rule-of-thumb is for 80% of your posts to be beneficial to your followers (non-commercial, about your community or your industry) and 20% about your business, products, sales, etc. That's 4-to-1.
After a day in your store, on a job site or in your office, spending time searching for content to post to your Facebook or Twitter account may be the last thing you want to do.
Here is a list of suggested topics and sources of information to help you quickly find new and interesting content to share. We segmented the list of topics into categories.
Community
Does your organization sponsor any local events or local teams? Talk about these events and teams, what they are doing, when, and photos.
Does your organization or any staff volunteer or participate in any charities or charity fundraising events (e.g. walk-a-thon, bike-a-thon)? Talk about the events, post photos from the event.
Is there an upcoming local community event or parade? Talk about it. Do you have a float or tent or presence in it? Talk about it and post pictures.
Where to search: local newspapers, Google news, websites and Twitter accounts of news outlets from surrounding area
Your Industry
Is there a seasonal focus to your industry? Each season, tell people about what the industry is now focused on? e.g the home, reno in spring, bbq in summer, ___ in fall, winter…. Be seen as an expert.
Do you attend industry tradeshows or fairs? What is new this year (photos), a common theme this year, what people in the industry are talking about, share it, be seen as an expert who is up-to-date.
How-To articles, or videos on YouTube that show people how to do common activities. Post a few words about each one and a link to the online resource, it's an easy way to provide value to your followers.
Are there some common questions that you hear from customers? Search for an article that answers it (e.g. "How to pick a contractor") and post about it.
Does your organization do projects? Talk about the latest one, post photos, show it off. People like to see that you are continuously accomplishing things and proud of it.
Where to search: vendor websites, industry magazines or their websites, industry and vendor YouTube channels, search engines
Your Organization
Have you had any press coverage about your organization or any of your staff? Have you been quoted in a newspaper, on the news, in an online article. Tell people about it. It looks good if you are recognized by others as an expert on a given topic.
Do you have any upcoming or current contests? Share for more exposure. Also, tell who won, photos.
Have you done any renovations to your premises or building, have a new vehicle, new equipment, etc. talk about it, post photos.
Are there any organizational milestones this year? e.g. N years in business, N years since a historical highlight occurred.
Your Staff
Any job openings? Post details on your website or blog and link to the details in your post.
Any new employees? Tell people about them, post a photo if that's appropriate. Let people know that you're growing, things are improving.
Who won the Employee of the Month, why, photo.
Your Products, Services & Promotions
Do you have any new vendors or brands this year? Explain what makes them unique or special, or why you decided to carry their products.
Do you have any new products this year? Tell people about them, their benefits, photos.
Make sure you share any promotions or sales, including photos. This info might be split into multiple posts over the promotion period depending upon quantity.
Do you have any flyers? Where they can find them (if they didn't receive one, e.g. come into the store to get one). Post a picture of the flyer too.
Do you have a featured product of the week? Tell people about it, it's benefits, photo. Don't have one? Then consider having a featured product of the week.
Why not have a promotion that you only mentioned on your social media accounts? Give people a reason to follow you, and track the response.
Post photos of tools in use or projects in-progress or finished to give people ideas of projects they might attempt as well.
Recurring Posts
This section deals with information that you might want to post periodically on a schedule (e.g. monthly) so that people know what your organization is about.
Tell people what your organization does, provides, carries, is about. How it helps your customers.
What products and/or services you provide.
Your store locations, hours, contact info.
Links to your website and your other social media accounts.
You might feature a different section of your website each month (to mix it up a bit).
Post an all-staff photo once a year.
For these periodic posts, try to word them differently each time, don't just copy-and-paste the identical post from last month. Make it look like a conversation, tell people about it with a sentence or two, not just the same few words each month.
Summary
The above list should provide you with lots of content for your posts, and I'm sure you'll think of even most ideas as you get started.
Including a photo with posts is a very powerful draw to get people's attention. 87% of a Facebook page's interactions happen on posts that include a photo. On Twitter, posts with images get 18% more clicks, 89% more favourites and 150% more retweets.
When searching for things to share, be conscience of local, national and global news so that you don't post something that would be interpreted as insensitive to what is currently occurring (i.e. bad timing). On the other hand, it is often appreciated when organizations reach out and provide supportive posts to others who are experiencing a local tragedy.
However, if you don't know where to start and want someone to set things up for you, perhaps give you some training and then hand over the reigns, Emerge2 can help. We can setup your social media accounts to create an initial presence online for you with some initial content, and/or provide training so you can do your own posts. Conversely, if you do want social media but want someone else to handle it for you, we also provide social media management services; we will research new content in your industry and generate regular ongoing posts on your social media accounts on your behalf.